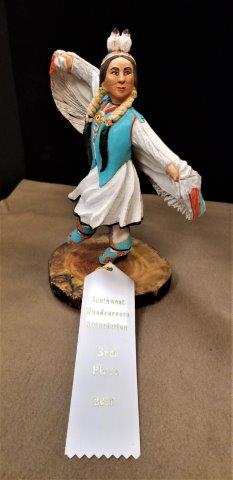 Peoples Choice Show at Saddlebrooke
Christmas Party 2018
Successful Christmas party again this year. Good food, good company, good music.
Picnic with Dave and Joan
Many thanks to Dave and Joan for hosting our annual picnic.
PIMA FAIR 2019
Pima Fair 2019 is April 18-28. They have agreed to let us setup our demonstration table on the weekends. We are in need of people to sit and carve, talk to visitors, encourage them to join us. So rather then sit at home making woodchips please sign up to join us making a mess at the fair grounds.
If your interested in helping with this event again for the next Pima County Fair please fill out the information below.
Mesa Show 2018
We had a very good showing and collection of ribbons at this show. Not only in our carvings but in helping the show be a success. Well done carvers.
Pumpkin Carving 2017
We did a carving class to get an early start on the pumpkins. Then we set up at the farmers market. All donations go to the Square and Compass Children's Clinic. 
We missed 2018 carving but hope to continue in 2019. Sign up below to help with this event.

Looking for other pictures? I save all pictures that have been posted on the website. Just send an email and I will look them up.